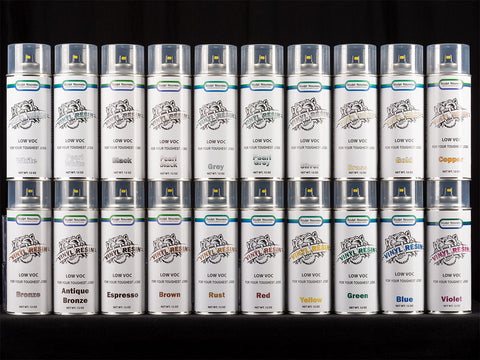 Copper Vinyl Resin Spray
Vinyl Resin is a durable, versatile, low-maintenance coating for most surfaces including newly galvanized ironwork, aluminum, and structural steel as well as wood, resin, plastics, and concrete.
Vinyl Resin does not require a primer. It is fast drying, does not chip and is a great choice for rust protection, finishes for large structures, or decorative ironwork.
Surface preparation is extremely important when using Vinyl Resin. Surfaces must be free of all dirt, oils, rust, and moisture before application. Depending on the substrate, sandblasting, sanding, or wire brushing may be required along with a good metal cleaner such as Sculpt Nouveau Metal Cleaner/Degreaser.
One gallon of Vinyl Resin generally covers 200 sq. ft. per coat. Two to three coats are recommended. Vinyl Resin is available in 32oz., 1 gallon, and 5 gallon sizes as well as 12oz. spray cans. Vinyl Resin colors may be blended together. Vinyl Resin can be also diluted with Xylene or Sculpt Nouveau Clear Guard to change the shine or to suit sprayer equipment.
A sprayer is required for application. The standard undiluted film thickness per coat is 40 microns if applied correctly. Most inland exterior environments should require 2 full coats while coastal/severe outdoor environments should need 3 coats or a total of 120 microns thickness. Re-coat times are every 2 hours at 50°F or 1 hour at 68°F. Air temperature should be at least 45°F with humidity less than 90% and the surface temp should not be lower than 40°F to ensure that surface condensation will not occur during application or drying. Drying times will be significantly extended in cold or damp conditions. Cure time is at least 48 hours.
Please see the full instruction guide for complete surface preparation, application, and safety tips.
Vinyl Resin should look great for many years. But when the time comes for maintenance, it is very easy to repaint. Ensure the surface is clean and completely dry, and then repaint with a single coat of your chosen color.
Technical Data:   Product Guide - Datasheet  -  SDS
---
We Also Recommend