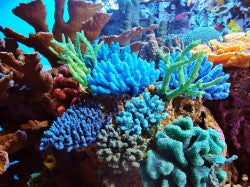 Polygem 1618 Clear Zoopoxy
1618 is an extremely clear epoxy coating for sealing or beautifying most surfaces. It will waterproof and provide protection against environmental exposure, animal urine and most cleaners and solvents. 1618 has excellent thermal shock and impact resistance and exhibits superior adhesion to most surfaces such as concrete, metal, wood and fiberglass. 1618 is a special low-exotherming formula that is ideal for use as a clear casting epoxy. 1618 is 100% solids epoxy and is fully tintable for custom coloring applications.
1618 is widely used in naturalistic zoological environments and marine habitats, museum dioramas, amusement parks, modeling studios and is even durable enough for heavy industrial flooring applications.
FEATURES                                                    BENEFITS
Superior adhesion                              Excellent bond to most surfaces
Outstanding durability                       Moisture, impact and shock resistant
No solvents – 100% solids                 V.O.C. compliant
Crystal clear formula                          Ideal for mold castings
 1618 is also excellent as a sealer coat over artificial rock and coral structure used in underwater exhibits and aquariums.
---
Technical Data: Polygem 1618 Datasheet
                            Polygem 1618 Part A MSDS      Polygem 1618 Part B MSDS
---
We Also Recommend