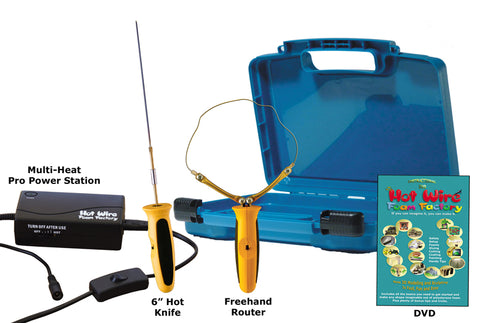 Pro 6" Hot Knife & Freehand Router Kit
Includes Pro Knife with 6" Blade, Freehand Router with 5 blades, Pro Power Station, 90 minute Hot Wire Foam Factory Instructional DVD, and sturdy carrying case. This kit is popular with artists doing large projects requiring fast cutting versatile foam cutting and sculpting tools.

Pro 6" Hot Knife
The Samurai of Foam Cutting!! Our new 6" model cuts 1.5x faster than the 8" model and gets as hot as foam can be cut without losing detail and charring. The 6" cutting blade is tougher, and cuts faster than the regular Hot Knife.

Freehand Router.
Make the Blade Into Any Shape!! Comes with 5 ultra-stiff, yet shapable 10.5" wires that bolt onto the arms. Scoop out big or tiny pieces of foam for any level of control. The Freehand Router is to foam what the chisel was to stone.
---
We Also Recommend