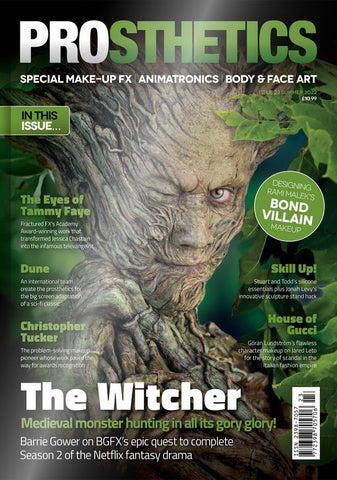 Prosthetics Magazine Issue 23
Prosthetics Magazine Issue 23 is also available here with USPS shipping included in the cost.
Important Update! We are very sad to report that this is the final issue of Prosthetics Magazine. For those of you who have just discovered this publication, we do have back issues available, but they are limited.
Issue 23 sees prosthetics come full circle in the Academy Awards, with a retrospective on the career of Christopher Tucker, without whom the statuette for 'Makeup and Hairstyling' may never have existed, and a feature about Justin Raleigh's work on The Eyes of Tammy Faye, for which he just scooped that very Oscar, CONGRATULATIONS JUSTIN and FRACTURED FX!
You'll also find features on BGFX's epic quest to complete season 2 of The Witcher; Donald Mowat, Love Larson and Eva von Bahr discussing Dune and transforming Stellan Skarsgård into Baron Harkonnen; Joel Harlow's supernatural splendour of monsters for the second series of Evil; Joe Nazzaro investigating thwarted attempts to bring practical effects to vampire classic, I Am Legend; Barrie Gower explaining the inspiration and processes behind Rami Malek's Bond villain makeup in No Time to Die; Illusion Industries' reimagining of horror icon Leatherface for the Netflix Texas Chainsaw Massacre, and Göran Lundström's flawless character makeup on Jared Leto for House of Gucci.
Stuart Bray and Todd Debreceni impart their extensive knowledge about silicone; founder of Atlanta's Blue Whale Studios, Jonah Levy, shares a very slick tech tip using computer monitor arms, and Justin Raleigh gives us his personal words of wisdom, fresh from accepting his gong at the 94th Academy Awards ceremony!

Master sculptor, character designer and inspirational teacher Don Lanning shares his Words of Wisdom, and we preview Heather Wixson's upcoming book series Monsters, Makeup and Effects that serves up interviews with some of the greatest creature creators from across the years
---
We Also Recommend