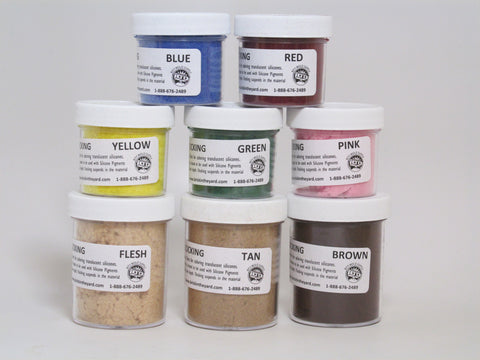 8 Color Flocking Kit
Flocking Powder works great for coloring in translucent silicone, gelatin and other translucent materials to get a suspended look.
Add Flocking to PlatSil Gel-00 and PlatSil Gel-10 to achieve tissue like appearance as it doesn't affect the opacity or the translucency of the gel.
Flocking is NOT meant to be used on its own to color silicone. It is meant to be used with Silicone Pigments in order to achieve more realistic colors and depth.
Kit Contains - 4oz Tan, 4oz Brown, 4oz Flesh (Caucasian), 1oz Red, 1oz Pink, 1oz Blue, 1oz Yellow and 1oz Green
Flocking is packaged by volume
Technical Data:  MSDS
---
We Also Recommend