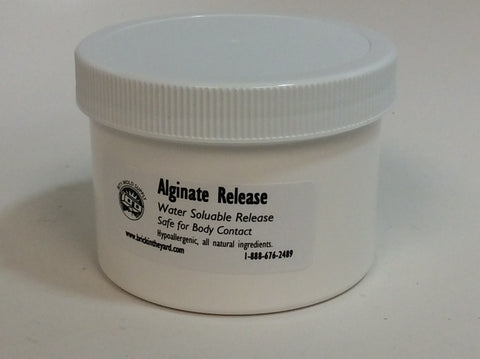 Alginate Release - 8oz
Alginate Release is a gem of a product and a 'must have' for every lifecaster.
Avoid the hassle and win your model over with our Alginate Release. Use this water-based release cream instead of petroleum jelly on the skin and all body hair. Washes out the first time unlike petroleum-based jellies. Work a generous amount into the hair and then comb. You can cast an entire head of hair. Also great to fill pin holes in your alginate molds prior to casting.
Use Alginate Release to "fill in" masses of hair so the alginate doesn't flow down between the hairs.
This makes it possible to capture the "form, volume and outer texture" of eyebrows, moustaches, etc.
Another handy idea - use it to hold your Accu-Cast or alginate mold to the mother mold around the edges.
Hypoallergenic, all natural ingredients.
Smells great, too.
Technical Data: MSDS
---
We Also Recommend