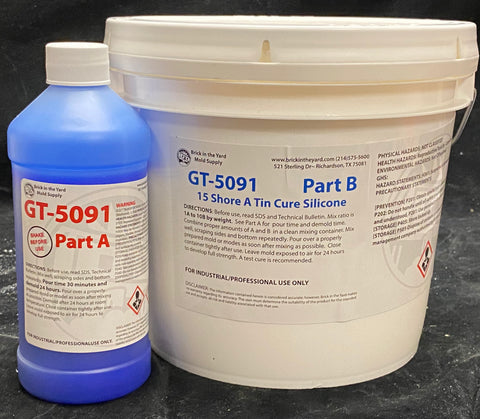 Tin Cure 5091 - All Kit Sizes
GT 5091 is a room temperature cure silicone designed for the manufacture of flexible molds of patterns with undercut areas. 5091 is a 10:1 ratio by weight.

Applications:
5091 has a low Viscosity and Resistance to Sulfur Based Clays.
Hobby and art projects, Foundry, sculpture , and figurines Candle and Soap Molds
Rapid Prototyping Special Effects Model Making.
Typical Properties
Base Catalyst: Color White Blue
Specific Gravity 1.12 0.98
Mixed Viscosity 20,000
Pot Life (Pour Time) 60 Minutes
After Cure (7 days @ 25 oC
Tensile, psi: 450
Elongation, % 375
Durometer (Shore A) 15
Tear (die B) 120
Linear Shrinkage; % 0.3-0.4
Specific Gravity 1.1
Data Sheet
---
We Also Recommend